The First Edition
The concept for the calendar was developed in the summer of 2001 over a relaxed dinner in the restaurant of the area's most famous hotel - the Hurricane Hotel, Tarifa.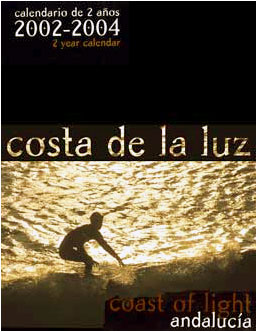 James Whaley, a pioneer of ecological tourism in the area, an author and scriptwriter, decided to publish the calendar and so work began. Thousands of photographs were taken over the following months, with input from James, who worked hands-on during the entire project. Over 300 scans were made and 200 proofs produced before the final images were chosen.

The brief given by James was definitely artistic: "The images you use must provoke the imagination … if you have to look at an image for a whole month, unless it stimulates your imagination it will become boring. Keep it colourful and abstract."
Michelle Chaplow has been photographing Spain for the past ten years. One of the images, used for July 2003, was a stock image created for a six-month project to photograph the Spanish coastline from Alicante to Huelva. This portfolio of images won the state prize for photography from the Spanish minister ministry? of tourism in 1996. In fact, you can see the same image in October's Harper's magazine, where it is used as an introduction to an article on the world's best beaches.

When James asked Michelle who she thought could design and produce the calendar, Michelle had just come back form New York and Sydney and had been studying lots of different design styles. Cheryl Gatward of New Image immediately came to mind because of her vibrant cutting edge design style. Cheryl has worked for many years with the British and European governments on a wide range of projects, from promoting British fashion to producing handbooks for the Commonwealth Secretariat.

---

Second Edition 2004
The calendar team for 2004 comprised photographer Michelle Chaplow, assisted by David Doyle, who worked through the summer of 2003 on the project. One month featured famous Olympic medallist synchronised swimmer Gema Mengal, practising her routines in El Aguilon's pool while on holiday in Tarifa.

The calendar comprised of landscapes and idiosyncrasies of the Costa de la Luz. In September the selection process began with the help of James Whaley and Cheryl Gatward and continued into October. But there appeared to be something missing. The plan for a last photo of some surfers changing their wetsuits looked impossible to achieve on an overcast October day. Luck was on our side and the sun shone for one hour, just enough time to shoot the February nude photo which subsequently attracted the most comment.

Professionally, this was also a good year for Michelle who accidentally discovered on the internet that she had received an honorary mention in the prestigious Ortiz Echagüe award for her work in the field of Spanish tourism photography. This award was presented by the Spanish Ministry of Tourism and Commerce.

Designer Cheryl decided to give more space to each day, as some users had commented that it was difficult to write more than one appointment. A silhouette image of a girl and a surfer was portrayed on the cover in line with the pervious year's image. The new image's vibrant style succeeded once again.

---

Third Edition
Work on this edition commenced in late spring, although all of the final selected images were taken during June, July and August. Unlike previous years that had used some stock shots, every image was shot specifically for the calendar. Each image contains a human element. All images are environmental portraits; people in their own environment. "Within their own environment people are more relaxed, blending into the image, being at one and portraying an at-home feel to the calendar."

Many people in Spain comment that calendars in Spain aren't sold but are usually gifts from companies, depicting landscapes or religious icons. They are usually A4 in size.

The team decided not to go with the flow and introduce virgins, shrines and landscapes in the 2005 edition. This edition would be a limited edition collector's item, with funky images shot on location on the Costa de la Luz. It would contain a nude, a selection of people and generations all celebrating this beautiful region of Spain; it is what it claims to be…The Coast of Light.
Cheryl Gatward decided to redesign this year's product in A3 landscape format, with larger imagery and complementary innovative design.

Apart from a handful of local locations, the calendar is only sold on this website. Many thanks to Andalucia.com who sponsored the production costs of the calendar and to Joaquin Alarcon who worked as Michelle's photographic assistant and right-hand man throughout the project.

---

Fourth Edition
What up until now had been the Costa de la Luz calendar, changed overnight to the new Andalucia Calendar. Work on this edition commenced in full-on Andalucian summer time. Shoots carried out from July to September provided the core of images. Stock images of Andalucia were also pulled in to help make turn this edition into a two year calendar. "One year is just too short" commented calendar guru James Whaley.

The other reason for a two year edition is of course is to remove some time pressure to build up images for the next 2008 edition.

The calendar buyers have continually asked, for more space to note down those special dates, Cheryl Gatward of New image, decided to redesign this year's product in A3 portrait format, it hangs better on the wall, with more space for writing notes.

Michelle visited the Frankfurt Book fare in October for the launch of her new coffee table book on Spain and commentated on how extensive the calendar market was and the number of specialist calendar publishers who were exhibiting.

This year the team had no problem in recruiting models, in fact just the opposite, the team received several emails from people interested in collaborating on this project.

Many thanks to andalucia.com for their continual support in the production and publishing of this calendar and the crew: David Doyle and Joaquin Alarcón who worked as Michelle's photographic assistants and right-hand men throughout much of the project. Hair and make up Mayte Coronil and Marina Fernández Design team Cheryl Gatward and Frances Hawkshead. Original inspiration James Whaley.

---

Fifth Edition
Although it is a labour of love, making this calendar takes a great deal of work and planning.
Curious facts and figures
Photographer Michelle Chaplow recorded over 50 gigabytes of raw photographic files. Hundreds of images were collated for the pre-selection, with only 27 making their way into the final product.

During its creation, over 4000 kilometres were logged scouting for and shooting in locations that best epitomise the depth and the breadth of the glorious region of Andalucía.

The 4th edition was shot 90% on transparency film, this additional was shot for the first time exclusively on digital.
A support crew of eight joined forces to make the calendar and over 50 models posed for the 2008-2009 calendars with two models returning from the 4th edition.

Photographer Michelle Chaplow and New image director Cheryl Gatward have birthday´s in September, favourite images are always selected for that month.

Cheryl Gatward and team have once again, surpassed themselves in yet another unique and vibrant design.
Joaquin Alarcon worked relentlessly as the chief assistant and production coordinator throughout the project.
James Whaley as usual kept his creative fingers on the pulse.

The Andalucia.com calendar has also fostered romance. A few years ago, a German tourist saw the 2004 edition and became especially enamoured with the young woman featured for the month of September 2004. He came to Andalucia with the aim of finding her and after quite some time he finally managed to locate her. They fell in love and are still together today!

The end result of all of this time, patience, and preparation is a beautiful, one-of-a kind two-year calendar that explodes with colour, light, and emotion... Enjoy!